Well what should have been a preview write up for the Race Retro Show in Stoneleigh near Coventry this is now a preview to the first round of the National Rally Championship supported by Triton Showers.
The Birr and District Motor Club host Round 1 of the rejuvenated National Rally Championship, which is this year sponsored by Triton Showers after the long running backing of the championship by Dunlop Tyres came to an end last year. The change in title sponsor and some slight changes in the championship has seen a massive interest in the Abbeyleix based event with a quality entry that the likes of hasn't been seen for a number of years. Numerous events have drawn good entries but this weekend sees not just a quality top 10 or top 20 but a great top 50.
It has been a few years since I have been to the Birr Rally and the last visit was in 2010 when Niall Maguire ran first on the road with now Championship sponsor Kevin Barrett next up, this year Niall runs with number 10 on the doors with Kevin a few cars ahead at number 7
Niall Maguire/Barry Goodman Birr Rally 2010
This years top 20 is reminiscent of the entry lists we were used to during the boom times with a high number of WRCars, good Group N's and some quick Mk2 Escorts
No
1
Driver
Declan Boyle
Navigator
Brian Boyle
Class
7
Car
Subaru Imperza S12B
2
Donagh Kelly
Kevin Flanagan
7
Ford Focus WRC
3
Garry Jennings
Rory Kennedy
7
Subaru Impreza S12B
4
Darren Gass
James McCarville
7
Subaru Impreza WRC S14
5
Roy White
James O'Brien
20
MG ZR S2400
6
Peadar Hurson
Damien Connolly
7
Subaru Impreza WRC
7
Kevin Barrett
Sean Mullally
7
Subaru Impreza S14
8
John Stone
Carl Williamson
7
Skoda Fabia WRC
9
Steve Wood
Keith Moriarty
7
Subaru Impreza WRC
10
Niall Maguire
Enda Sherry
7
Subaru Impreza S11
11
Alan Ring
Adrian Deasy
7
Subaru Impreza S12B
12
Kevin Kelleher
Ray Fitzpatrick
7
Subaru Impreza WRC
14
Declan Gallagher
Ryan Moore
13
Toyota GT86
15
Frank Kelly
Liam Brennan
14
Ford Escort
16
Craig Breen
Andy Hayes
13
Ford Escort
17
Mike Quinn
Donal Balfe
14
Ford Escort
18
Jonathan Pringle
Martin Byrne
14
Ford Escort
19
Chris Armstrong
James Fulton
13
Ford Escort
20
Gary Kiernan
Niall Tierney
13
Ford Escort
21
Shane Maguire
Stephen Thornton
4
Mitsubishi Evo 9
It's great to see a strong presence from the front runners in the Tarmac Championship at the front of the field plus some welcome visitors from across the water, John Stone/Carl Williamson in their Skoda Fabia WRC, Steve Wood with Keith Moriarty on the notes in an Impreza WRC and Simon Chapman, navigated by Monaghan man Arthur Kierans, in a Millington powered Proton Satria. Special praise must go to Dom Buckley IRS for their tireless work in preparing John Stones "Team Legend" Fabia after a fire on the North West Stages in Blackpool a couple of weeks ago. Everything looked complete and ready in time until an ECU failure yesterday. After frantic searching one was located in Belgium and rather than be let down by a courier, flights were arranged and a person dispatched to collect the vital piece of the puzzle and then hope it was compatible with the car........The good news is it arrived back to Buckleys today and works so the car is on it's way to the Abbeyleix.
The Boyle cousins from Donegal will be hoping for a good start in the defence of their National Title after their unfortunate penalty on the Tarmac Championship operner in Galway a couple of weeks ago but with the presence of Donagh Kelly and Garry Jennings they might not have things their own way while Roy White, Kevin Barrett, Maguire and Alan Ring will be hoping to mix it in with the "big boys" at the front.
Craig Breen takes time out from his WRC and ERC schedules to take part in James Colemans Mk2 Escort, Andy Hayes will be on navigating duties for Craig this weekend. Meanwhile Eugene Donnelly swaps seats and will be navigating for Mark Kane in a Mk2 Escort. Another interesting addition to the entry list this weekend is the Toyota GT86 which is to be driven by Declan Gallagher. The car which has been built by Davey Greers DGMsport concern is being loaned to Gallagher for the weekend by fellow Donegal man and Toyota Dealer Brendan Kelly.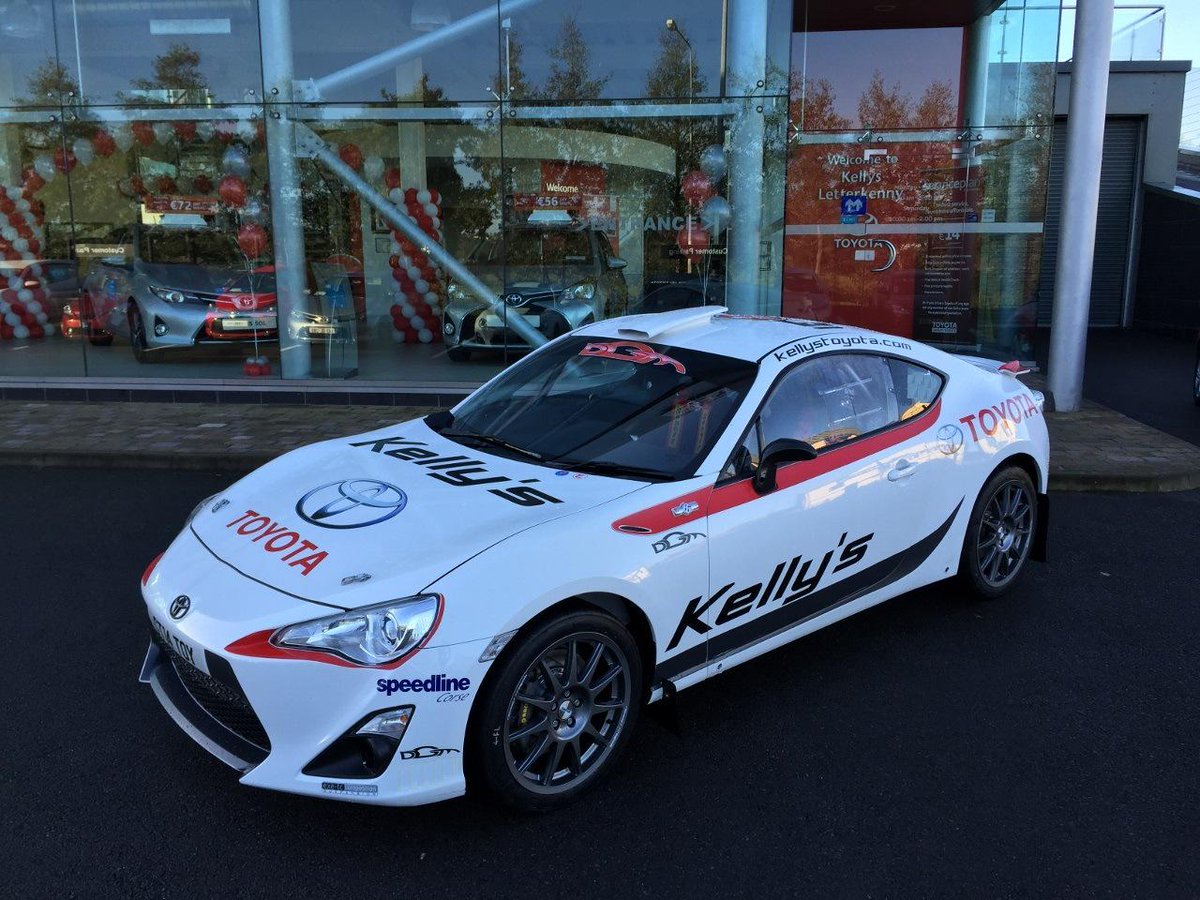 photo via David Greer @cadgerrally on Twitter
The HQ for the event will be the Abbeyleix Manor Hotel with Scrutiny held at Oliver Stanley Motors in Durrow. First car is away from parc ferme on Sunday morning at 09.00 with the first stage due to start at 10.02. The stages, based near Borris in Ossery, Roscrea and Rathdowney, will be run in a 3 x 3 format with service after stages 3 and 6 and first car due in to those services at 11.45 and 14.15. The winners are due back at the Abbeyleix Manor Hotel at 17.05(approx)
Full entry list, details of program outlets etc can be found on
Birr Motor Club website
Results will be available on http://results.shannonsportsit.ie
If you are going out spectating please remember to obey the officials and marshals and stand in a safe place as motorsport can be dangerous